Hello everyone! I am visiting my family in Oklahoma this week so some lovely bloggers have stepped in with fabulous guest posts for you while I'm away! Stay tuned all week and show them some love! I also have a brand new collection post scheduled for Thursday, you won't want to miss it!
Guest posting for me today is the super sweet and talented Jacki from Adventures in Acetone. She does some of the most amazing nail art I've ever seen and is also a mom of 2 adorable kiddos! I will link all of her social media info at the bottom in case you don't already give her a follow!
--------------------------------
Hey, everyone! I'm Jacki from Adventures In Acetone and am so happy to be here! I just adore Ashley and was excited to be able to write a guest post for her. I know that we are getting deep into Autumn and most everyone is grabbing their darker polishes, but I don't conform. That's why I was so excited to see that OPI included some unconventional "fall" colors into their Venice Collection this year. OPI Gelato on My Mind and Purple Palazzo Pants paired beautifully together and I really enjoyed wearing this mani.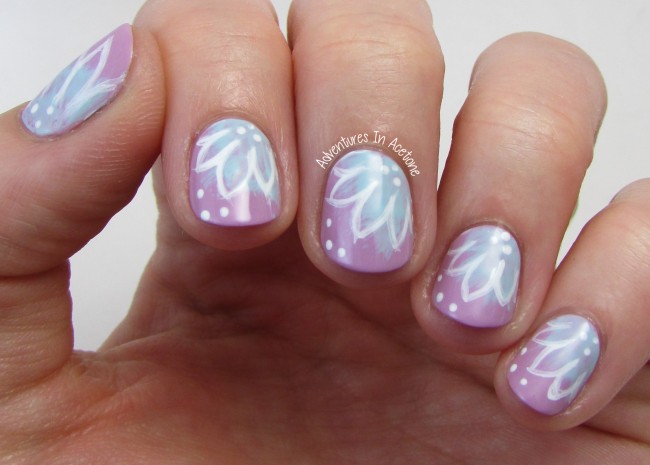 For this mani, I followed The Lacquerologist's Splash Floral tutorial in her nail art book: Idiot's Guides Nail Art. There are a ton of easy to follow nail art tutorials and I highly recommend it. You can see my review of her book HERE.
I started out with two coats of OPI Purple Palazzo Pants and let that dry.
Next, I wiped most of the polish off of the brush and dry brushed OPI Gelato on My Mind from the cuticle corner outward.
Salon Perfect Nail Art Striper White Out was used for the easy florals and a small dotting tool for the dot details.
I used a coat of KBShimmer Clearly on Top to seal the design and add shine.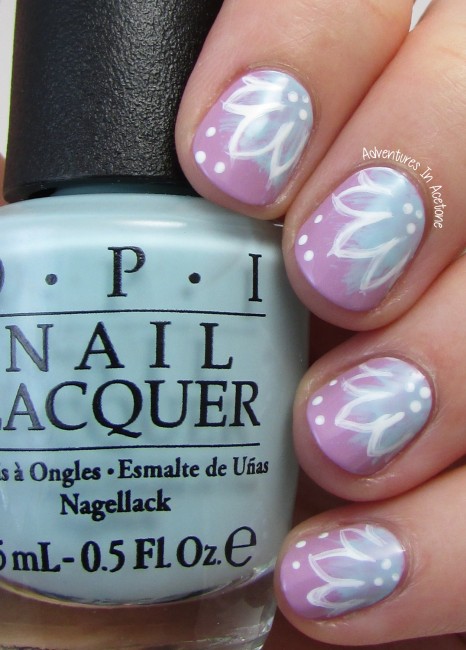 Are you a typical "fall color" polish wearer, or do you wear whatever you like? Thank you so much for reading and to Ashley for having me! You can follow Adventures In Acetone on Facebook, Instagram, Twitter, and Adventuresinacetone.com.
---------------------------------
I am a typical fall color kind of gal, but I also wear whatever I want no matter what the calendar says so I love Jacki's mani for any time of year! Make sure to visit her at the links below!

Blog